Practice Material
INFORMATION BOOKLET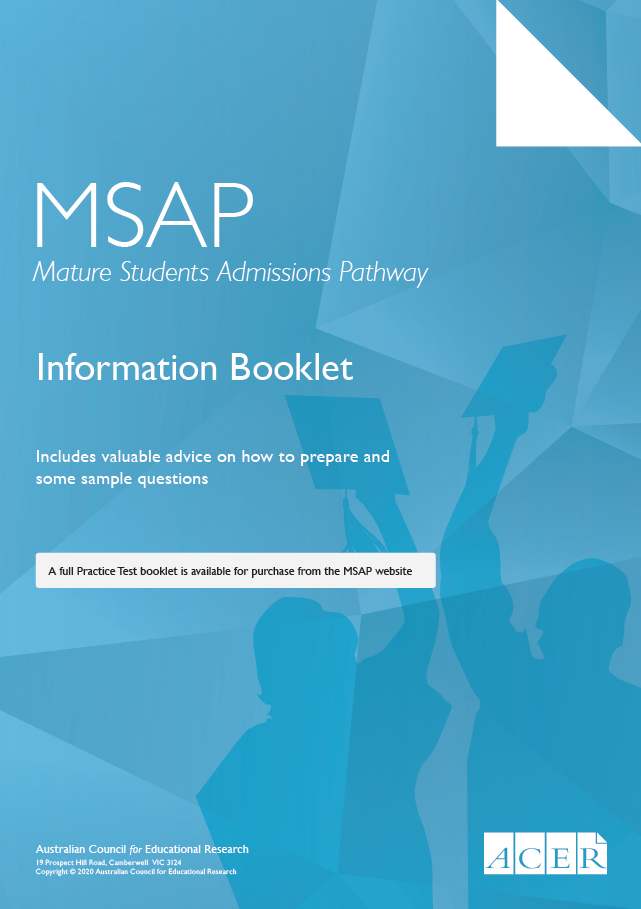 Practice Material for purchase
1. Practice Test E-Booklet (€20.00)
Downloadable PDF (watermarked with your name & email address)
Different questions to those in the free MSAP Information Booklet
Replicates the design of an actual test
Contains exam preparation tips, as well as annotated answers
Contains one set of writing tasks (Module 1) and 35 multiple-choice questions for both Module 2 and Module 3
You may print the booklet up to 2 times
Unlimited access onscreen for one year from date of purchase
No circulation of this booklet is permitted
Please note: hardcopies will not be posted to you. You will need to print out your copy yourself.
2. Automatically Scored Written English (€20.00)
Candidates submit two essays addressing two specific prompts, simulating the MSAP Module 1 writing task. The essays are automatically scored. A percentile band and a score range are provided to you immediately on submission of both essays. Detailed feedback and critiquing of your writing is not provided. Both essays must be submitted SIMILTANEOUSLY to receive a score. The test can be completed once only, per payment.
To enable automatic scoring several hundred responses to the prompts were marked using a criterion-referenced analytical marking guide. Responses were hand marked (double marked and adjudicated where necessary) using the MSAP marking guide. The scores were Rasch analysed and a measurement scale was calibrated. Finally, the scores were loaded to the automatic marking system to create a computer model that replicates manual scoring and can 'mimic' the way markers assign scores.
PLEASE NOTE
Practice materials are accessible as soon as your payment is successfully received. Instructions on how to access materials are emailed to you once you have made your payment.
There is only one set of essay prompts available for the Written English practice test. Different prompts are not generated for any additional purchases.
Practice materials are not updated annually. If you have purchased practice materials in the past, please email msap-ireland@acer.org to determine if the practice material has changed since your last purchase.
You are not permitted to reproduce the Practice Test in whole or in part by any means, other for than your sole use.
You must agree to having your personal details imprinted on the booklet.
Except as otherwise required by law, no refunds will be given for the purchase of any MSAP preparation materials. As the materials are accessible as soon as the payment is received, if you purchase a Practice Test, you agree that any cooling off period does not apply for any change of mind. In making your purchase you consent to immediate performance of the contract and acknowledge that you will lose your right of withdrawal from the contract once the supply of digital content has begun.
BUY NOW
To purchase MSAP Practice Tests you must first create an ACER User Account.
Go to: http://registration.acer.edu.au/ and click "sign up here". Once your account is created, Under the heading 'Assessments' go to 'I want to' next to MSAP Ireland and select 'Purchase preparation materials'.